The halls of Pathways Village have gotten a bit livelier, thanks to resident Lisa Eve. Around 15 of Lisa's photographs have been transformed into large, canvas-wrapped images and hung throughout the second and third floors for all to admire.
Pathways Village is a 40-unit affordable housing complex designed for those who have been chronically homeless in our community. Hilltop Family Navigators are there to provide support services to tenants; helping meet their basic needs and connecting them to community resources. In turn tenants can shift their focus to grow and explore new skills with the goal of developing a sustainable income.
"Being able to be safe and finally get a good nights sleep has kept me out of trouble and given me the time and space to create," says Lisa.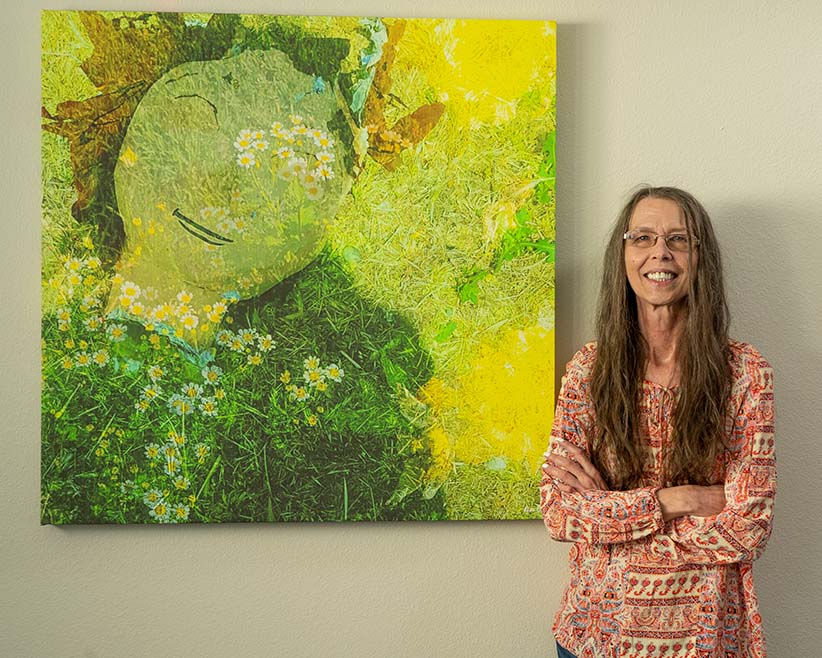 Lisa next to one of her favorite prints; a blended photograph of wild daisies and a discarded paper mache face found in the park
She developed her passion for photography as a teenager. Having limited access to equipment, Lisa learned to photograph and edit on the various models of cell phones she's had over the years. Gathering inspiration from the world around her and an extreme editing group on social media, she transforms every day scenes and objects into works of art ready for a gallery.
Lisa never thought shed see her photographs transformed into large prints. "Its just great, you know, to see them so big and not on my phone screen." She says its the joy others get from seeing her images that keeps her inspired and creating.
Lisa has plans to print her photographs on mugs and greeting cards in time for the holiday season, as well as setting up a website for custom orders.
"The plan is to be able to pay my own rent and buy better art supplies. That's it, really."
For more information on the Pathways Village click here.